Plus Blog
Thursday, August 13, 2009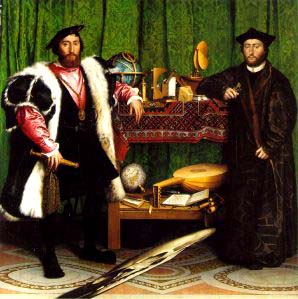 Fifty years ago, C.P. Snow claimed there were 'two cultures', sciences and the humanities, with an unbridgeable gulf between them.The idea sparked widespread controversy, which has continued ever since.
This debate will be revisited in the event Culture clash: The 'two cultures' 50 years on, part of the British Science Festival at the University of Surrey (Guildford). The speakers, Prof Robert Bud from the Science Museum, Dr Red Nield, editor of Geoscientist magazine, and Prof Raymond Tallis from the University of Manchester, will take a critical look at Snow's notorious idea and its enduring appeal. Have the two cultures moved any closer? And what do they imply for the larger questions he raised about education, economic development, and global inequality?
Where: University of Surrey
When: 4 pm Tuesday 8 September 2009
For more information and booking visite the British Science Festival website
And you can read more about C.P. Snow and mathematics and art on Plus.
posted by Plus @ 2:11 PM


0 Comments:
Wednesday, August 05, 2009

In our third online poll to find out what Plus readers would most like to know about the Universe, you told us that you'd like to learn about the secrets of dark matter and dark energy. We took the first part of the question — what is dark matter? — to Martin Rees, Astronomer Royal and Professor of Cosmology and Astrophysics at the University of Cambridge. Here is his answer.
Labels: IYA2009, Latest news
posted by Plus @ 9:26 AM


Wednesday, July 29, 2009
It's not very often that something I read makes me want to jack in my lovely job at Plus and return to study and research. But that is just what happened when reading "Sync" by Steven Strogatz.
The book tells the story of how questions from diverse areas — Why do we sleep when we do? How do fireflies flash in unision? Why does our heart beat? How do you link generators in a power grid? — have developed into a new field of study. This new field, which Strogatz calls synchrony, examines how order can spontaneously break out in complex systems. The role of sync in such diverse areas of science is fascinating, but equally fascinating is his evocative description of the process of doing this research. Strogatz describes theoretical concepts and research problems almost as if they were physical entities that you could touch or smell.
Labels: Book review
Wednesday, July 29, 2009
Magic, origami, climate change and stupid equations: maths at the British Science Festival
The 2009 British Science Festival is celebrating creativity, innovation and evolution with a huge range of events over 5 days, from 5 - 10 September at the University of Surrey. And being all those things, Mathematics will be the star of the show, with a fantastic programme of events:
The Magic of Computer Science — A clever conjuring show which challenges the audience to work out how the tricks are done. Performed by Peter McOwan, professor of computer science at Queen Mary University of London. (Saturday 5 September)
Mathematics and Meltdown: How Financial Systems Collapse — Plus author Tim Johnson and Mark Robson answer the questions: How do we model what goes on in the City when the structures are changing so rapidly? And what is the role of statistics in modelling the speculation and high levels of interdependency across markets today? (Saturday 5 September )
From Flapping Birds to Space Telescopes: The Modern Science of Origami — Robert Lang, an artist and expert on the mathematics of origami shows how its theorems illuminated long-standing mathematical questions and solved practical engineering problems which even have applications in space. (Sunday 6 September)
Why do journalists love stupid equations? — Simon Singh, journalist and documentary maker, asks why the press are suckers for pseudo-mathematical formulas which PR companies cynically use to create quick and easy news stories. (Presidential lecture Sunday 6 September)
Chaos in Climate: An Inconvenient Truth? — Being able to make sense of the chaos in weather and climate is one of our greatest triumphs. Ian Roulstone and Lucia Elghali, from the University of Surrey show how mathematical modelling is also helping us to devise strategies for adapting to a changing climate. Tuesday 8 September
Fly Me to the Moon — Going back to the moon is the latest focus for space travel. But new mission designs mean sophisticated new mathematical techniques will be needed. Explore with Mark Roberts and Phil Palmer from the University of Surrey. (Thursday 10 September)
For more information about the festival visit www.britishsciencefestival.org or call 0207 019 4947. And you can read more about magic, finance, climate change and space travel on Plus.
posted by Plus @ 1:15 PM


0 Comments:
Wednesday, July 29, 2009
Dark energy — the debate continues...
As discussed in our recent article Lambda marks the spot — the biggest problem in theoretical physics, dark energy and the cosmological constant remains a controversial area that lies at the very edges of our understanding of the Universe. One of the contributors to that article, Subir Sarkar from the University of Oxford, recently took part in the Big Questions debate series at Imperial College in London, debating the fate of the Universe with Andrew Jaffe from Imperial. Jaffe argued for the existence of dark energy, while Subir argued that it was an artifact of the oversimplified cosmological model used to interpret observations. At the end of the debate, the audience was asked to vote on whether they thought dark energy exists, and Subir told us: "Given that I was attacking the standard cosmological model, it was a pleasant surprise when the audience voted decisively in my favour!"
James Darcy reported on the Big Questions debate in his physicsworld blog, and in a followup post published a clarification from Sarkar on some of the details.
Plus readers, always seeking an informed debate, voted to ask the experts "What is dark energy and dark matter?" in our last IYA09 poll. We'll be recording the answer to that question soon, so stay tuned. And once everyone has had a chance to hear both sides of the argument we'll open the debate on the Plus blog by asking you to vote on whether you think dark energy exists. Will Sarkar win the argument again? We'll have to wait and see..
posted by Plus @ 2:00 PM


Friday, July 24, 2009
The media is buzzing with swine flu numbers. Latest government figures say that over 100,000 people in England came down with swine flu during the last week — that's almost twice the amount of the previous week, and up to five times higher than the seasonal flu figures recorded last winter. Twenty-six people in England have died of the disease.
But where do the numbers come from? Patients with swine flu symptoms are no longer tested in the lab or traced, so the published figures are estimates, rather than absolute numbers.
Labels: epidemiology, Health and medicine, Latest news
posted by Plus @ 11:42 AM


0 Comments: