Plus Blog
Tuesday, August 25, 2009
In our third online poll to find out what Plus readers would most like to know about the Universe, you told us that you'd like to learn about the secrets of dark matter and dark energy. We took the second part of the question — what is dark matter? — to John D. Barrow, renowned cosmologist and Professor of Mathematical Sciences at the University of Cambridge. Here is his answer. (The first part of the question has been answered in Plus by Martin Rees.)
Labels: IYA2009, Latest news
posted by Plus @ 3:44 PM


2 Comments:
At 11:53 AM, Dr V C Sharma said...

In my view, as the old stars die new will be born at all times whether or not the universe is expanding. The total matter in the universe must remain the same at all times and this includes dark energy and dark matter. Dark matter and dark energy could be transforming simultaneously into one another constantly maintaining the same dynamic ratio of dark matter to dark energy.

At 12:01 PM, Dr V C Sharma said...
Friday, August 21, 2009
Maths A levels are on the rise!
The numbers of students taking AS and A level Mathematics and Further Mathematics qualifications have increased very significantly this year. A level Mathematics numbers are up from 64593 to 72475, a 12% increase, while A level Further Mathematics numbers are up from 9091 to 10473, a 15% increase. The Further Mathematics increases are the highest of any mainstream A level subject.
There appear to be much larger increases at AS level, with AS Mathematics numbers up from 84613 to 103312, a 22% increase, and AS Further Mathematics numbers up from 8945 to 13164, a 47% increase. However, it is not entirely certain that these figures can be taken at face value, due to changes in the advice regarding when candidates should apply for certification.
The results come at a time when A-level mathematics has been widely discussed in the news, with controversy over plans to introduce a new A-level in Use of Mathematics as well as calls to award more school league table points for "harder" subjects such as mathematics and physics.
Chris Budd, Education Secretary at the London Mathematical Society said, "We have been concerned at the recent decline in the number of candidates taking A-level mathematics and are now delighted that the subject is again attracting healthy levels of interest. Many of these candidates will go on to study mathematically-rich subjects at university, but many others will find their mathematics useful whatever they go on to study or in their working lives. " Duncan Lawson of the Higher Education Service Area at the Institute of Mathematics and Its Applications said, "The continued growth in success at A-level mathematics is fantastic news for the future of the subject in the UK. It is also good news for the country as a mathematically well-qualified workforce is essential for our international economic competitiveness. "
The news has also been welcomed by other organisations concerned with maths education in schools, including the Advisory Committee on Mathematics Education (ACME), the National Centre for Excellence in the Teaching of Mathematics (NCETM), and the Engineering Council UK. Particular praise has been heaped on the Further Mathematics Network (now replaced and extended by the Further Mathematics Support Programme), which for the last four years has provided tuition to students who could not access Further Mathematics tuition in their own schools and colleges. "The strong growth in numbers taking both these subjects is a tribute to the work of the Further Mathematics Network and others who are working to increase the popularity of Mathematics," said John Holman, Director of the National Science Learning Centre and National STEM Director.
The Further Mathematics Network was launched four years ago, because many students had been missing out on the opportunity to take Further Maths at A level. This was worrying, since a high level of mathematics is a pre-requisite for many degree subjects. "Further Mathematics is widely recognised by university departments in the sciences, engineering, computing and mathematics, the so called 'STEM' subjects, as one of the most demanding and useful AS/A level subjects," said Charlie Stripp, Programme Leader of the Further Mathematics Support Programme. "These increased numbers will result in more students being well-prepared to make the transition to university in these vital subject areas. Taking Further Maths is a great way for students to show they have that something extra."
posted by Plus @ 11:30 AM


0 Comments:
Thursday, August 13, 2009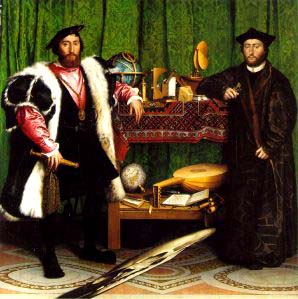 Fifty years ago, C.P. Snow claimed there were 'two cultures', sciences and the humanities, with an unbridgeable gulf between them.The idea sparked widespread controversy, which has continued ever since.
This debate will be revisited in the event Culture clash: The 'two cultures' 50 years on, part of the British Science Festival at the University of Surrey (Guildford). The speakers, Prof Robert Bud from the Science Museum, Dr Red Nield, editor of Geoscientist magazine, and Prof Raymond Tallis from the University of Manchester, will take a critical look at Snow's notorious idea and its enduring appeal. Have the two cultures moved any closer? And what do they imply for the larger questions he raised about education, economic development, and global inequality?
Where: University of Surrey
When: 4 pm Tuesday 8 September 2009
For more information and booking visite the British Science Festival website
And you can read more about C.P. Snow and mathematics and art on Plus.
posted by Plus @ 2:11 PM


0 Comments:
Wednesday, August 05, 2009

In our third online poll to find out what Plus readers would most like to know about the Universe, you told us that you'd like to learn about the secrets of dark matter and dark energy. We took the first part of the question — what is dark matter? — to Martin Rees, Astronomer Royal and Professor of Cosmology and Astrophysics at the University of Cambridge. Here is his answer.
Labels: IYA2009, Latest news
posted by Plus @ 9:26 AM


Wednesday, July 29, 2009
It's not very often that something I read makes me want to jack in my lovely job at Plus and return to study and research. But that is just what happened when reading "Sync" by Steven Strogatz.
The book tells the story of how questions from diverse areas — Why do we sleep when we do? How do fireflies flash in unision? Why does our heart beat? How do you link generators in a power grid? — have developed into a new field of study. This new field, which Strogatz calls synchrony, examines how order can spontaneously break out in complex systems. The role of sync in such diverse areas of science is fascinating, but equally fascinating is his evocative description of the process of doing this research. Strogatz describes theoretical concepts and research problems almost as if they were physical entities that you could touch or smell.
Labels: Book review
Wednesday, July 29, 2009
Magic, origami, climate change and stupid equations: maths at the British Science Festival
The 2009 British Science Festival is celebrating creativity, innovation and evolution with a huge range of events over 5 days, from 5 - 10 September at the University of Surrey. And being all those things, Mathematics will be the star of the show, with a fantastic programme of events:
The Magic of Computer Science — A clever conjuring show which challenges the audience to work out how the tricks are done. Performed by Peter McOwan, professor of computer science at Queen Mary University of London. (Saturday 5 September)
Mathematics and Meltdown: How Financial Systems Collapse — Plus author Tim Johnson and Mark Robson answer the questions: How do we model what goes on in the City when the structures are changing so rapidly? And what is the role of statistics in modelling the speculation and high levels of interdependency across markets today? (Saturday 5 September )
From Flapping Birds to Space Telescopes: The Modern Science of Origami — Robert Lang, an artist and expert on the mathematics of origami shows how its theorems illuminated long-standing mathematical questions and solved practical engineering problems which even have applications in space. (Sunday 6 September)
Why do journalists love stupid equations? — Simon Singh, journalist and documentary maker, asks why the press are suckers for pseudo-mathematical formulas which PR companies cynically use to create quick and easy news stories. (Presidential lecture Sunday 6 September)
Chaos in Climate: An Inconvenient Truth? — Being able to make sense of the chaos in weather and climate is one of our greatest triumphs. Ian Roulstone and Lucia Elghali, from the University of Surrey show how mathematical modelling is also helping us to devise strategies for adapting to a changing climate. Tuesday 8 September
Fly Me to the Moon — Going back to the moon is the latest focus for space travel. But new mission designs mean sophisticated new mathematical techniques will be needed. Explore with Mark Roberts and Phil Palmer from the University of Surrey. (Thursday 10 September)
For more information about the festival visit www.britishsciencefestival.org or call 0207 019 4947. And you can read more about magic, finance, climate change and space travel on Plus.
posted by Plus @ 1:15 PM


0 Comments: