Plus Blog
Friday, May 22, 2009
After a gruelling 73 days each dragging 110kg of equipment in temperatures 40 degrees below zero, polar explorers Pen Hadow, Ann Daniels and Martin Hartley are now safely home in the UK spring sunshine. The aim of their expedition was to produce a comprehensive set of sea ice and snow thickness data in the Arctic, and despite technical problems, their data has already produced some surprising results.
Labels: Latest news
posted by Plus @ 8:17 AM


2 Comments:
At 1:05 PM, said...

To be more precise megawatt is a unit energy per unit time so that it is a power. It would have been more correct to say megajoules.
Anyway thanks for the post, simple and interesting model.
Thursday, May 21, 2009
Debate the big questions of the universe
The response to our International Year of Astronomy project seven things everyone wants to know about the universe has shown that Plus readers are keeping up with the frontiers of theoretical physics. Now you have a chance to debate the Big Questions in person, as the Astrophysics Group at the Physics Department of Imperial College London present a new series of debates on topical themes in modern astrophysics and cosmology.
In each debate a member of the Astrophysics Group will discuss one of the big questions raised by cutting-edge research with a guest, be it the origin of the Universe or the existence of black holes. The series will be accessible to everybody and is aimed at the general public, who will have the opportunity to ask questions in what will be a lively and interactive discussion.
The first topic up for debate is "the Origin of the Universe" at 6-8pm on Thursday 18 June at Imperial College, London. Prof. Michael Rowan-Robinson and Rev. Dr John Polkinghorne, will tackle the fascinating question of what the Big Bang means from both a scientific and a theological perspective. The next event will take place in mid-July and will discuss the existence of the mysterious dark energy.
Attendance is free but registration is essential, you can find out more at the Big questions site.
And for those of you holding out for the answer to our latest question 'Are the constants of nature really constant?', we have just recorded John Barrow's answer to this question, which ranged from how to standardize the widths or wires to alternate universes. We'll publish his answer in a podcast and article next week, as well as launch the next poll for you to choose the third thing everyone wants to know about the universe. Stay tuned....
posted by Plus @ 4:18 PM


0 Comments:
Tuesday, May 19, 2009
Should international travel be banned in the face of swine flu? Should life-saving drugs be withheld because they're too expensive? Should the government ban alcohol? And are bacon sandwiches really that dangerous?
Plus may seem like an unlikely place to look for answers to these questions, but this is about to change. With support from the Wellcome Trust we're launching a new project, called Do you know what's good for you?, which will look at the role of mathematics and statistics in the biomedical sciences.
Labels: Health and medicine, Latest news
posted by Plus @ 8:00 AM


Wednesday, May 13, 2009
Just over two weeks after the outbreak of swine flu, sorry, H1N1, most of us have come round to the idea that a pandemic doesn't always necessitate panic. The infection is spreading steadily, but in most people it's relatively mild and only a very small number of people have died outside Mexico. So were initial media reports just hype?
Labels: epidemiology, Health and medicine, Latest news
posted by Plus @ 3:25 PM


1 Comments:
At 4:06 PM, said...

A very good article which shows just how important fairly simple maths is in thinking rigorously about the world around us.

For example, I had heard of the idea of herd immunity before and had never really understood it - from a biological perspective I just thought tha if there were unvaccinated individuals around they would catch the disease so you'd have to immunise everybody. But once you introduce the idea of an reproduction rate, it's absolutely clear why that's not the case - because any geometric series with r<0 tends to 0.
Of course as the article goes on to make clear, it's more complicated than that as a geometric series is probably not the appropriate model, but that's what makes it so fascinating. Thanks Plus!
Tuesday, May 12, 2009
100 things you didn't know you didn't know
If you're thirsty for knowledge, then go along to this free Gresham College lecture taking place in London on Wednesday the 13th of May. It marks the publication of John D Barrow's latest book, 100 Essential Things You Didn't Know You Didn't Know, which answers one hundred essential questions of existence. From winning the lottery, placing bets at the races and escaping from bears, to sports, Shakespeare, Google, game theory, drunks, divorce settlements and dodgy accounting; from chaos to infinity and everything in between. Barrow writes a regular column for Plus, so you might be lucky enough to see some maths you've seen in Plus live on stage.
The lecture starts at 6pm and you can find directions on the Gresham College website.
posted by Plus @ 3:36 PM


0 Comments:
Thursday, May 07, 2009
Thank you for supporting Plus!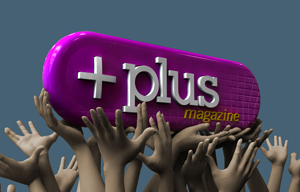 Thank you very much to all the Plus readers who have given us such generous donations over the past few months.
Thanks to your generosity, as well as new grants from the Isaac Newton Trust and the Wellcome Trust, the future of Plus is now secure until July 2010.
Your donations arrived in response to a fundraising campaign we launched in December last year. At the time, the future of Plus was looking increasingly insecure, as our core funding was due to run out and the financial climate did not give much cause for optimism. As part of the Millennium Mathematics Project at the University of Cambridge, Plus is non-profit-making, receiving no statutory funding, and is entirely dependent on donations and grants from individuals and organisations committed to the public understanding of mathematics. But thanks to your swift response and generosity, together with the support of our other sponsors, we're able to continue to bring you the usual range of content from the fascinating world of maths, and — very importantly — Plus will remain free of charge for all its readers.
Thank you very much for your support!
posted by Plus @ 9:00 AM


0 Comments: