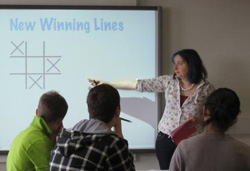 Dr Katie Steckles delivering the Playing with Squares masterclass in Manchester.
Would you like to present engaging mathematics sessions to young people?
The Royal Institution of Great Britain (Ri) is offering development sessions for new Ri mathematics masterclass speakers as part of the celebration of the 30th anniversary of the programme. The network stretches from Aberdeen to Truro, including Jersey and Northern Ireland, and is ever-expanding.
The Ri welcomes enquiries from teachers, researchers, postgraduate students, professionals from industry or any other person with interest in mathematics and in communicating it. Places are limited but they will do their best to accommodate all requests at this or future sessions.
The next development session is in Cambridge, on 20th October 2011. Details about the masterclasses can be found on the Ri website.
If you like to know more about the project or the session please contact Sara Santos on ssantos@ri.ac.uk or call 020 7670 2915.