Plus Blog
Wednesday, December 10, 2008
The two major events over the last couple of months have been the credit crunch and the US presidential election. We take a mathematical view of both of these, muse over the surprising effectiveness of maths when it comes to describing the world we live in, and scrutinise some mathematical philosophy. Plus the usual mix of news, reviews and podcasts.
posted by Plus @ 3:10 PM


0 Comments:
Wednesday, December 10, 2008
Support Plus — make a difference to mathematics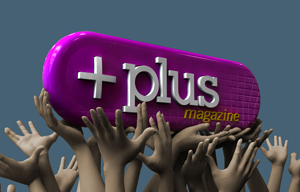 If you are a regular Plus reader who enjoys the weird and wonderful world of mathematics, then you may be interested in helping Plus secure its future. We are launching a campaign to raise the funds we need for the continued development and production of Plus beyond 2009.
As you may know, Plus receives no statutory funding and is entirely supported by donations and grants. Our activities are made possible by the generosity of organisations and individuals committed to the future of mathematics education and to improving the public understanding of mathematics. However, our current core funding is due to end in March 2009, and we are therefore actively seeking further funds to sustain the future of Plus.
Please consider making a donation to Plus via our parent organisation, the Millennium Mathematics Project, based at the University of Cambridge. Your money will go towards the salary costs of our editorial staff (who write articles and news items, edit contributions by external authors, and produce podcasts), and our technical staff who maintain the website. Your contribution, no matter how big or small, will enable us to keep Plus as it is: interesting, intelligent, fun, and — very importantly — free of charge for all our readers.
There are three ways to give to Plus:
Online: You can donate by credit card online via the University of Cambridge Development Office's secure site. Giving in this way means, if you wish, your donation can benefit from Gift Aid, making your gift worth even more to us at no extra cost to you. Please choose the option to support the Millennium Mathematics Project.

By cheque: You can send a cheque made payable to The Cambridge Foundation together with a completed donation form to:

Patrick Hawke-Smith
University of Cambridge Development Office
1 Quayside
Bridge Street
Cambridge CB5 8AB

Giving via the Cambridge Foundation means that if you wish your donation can benefit from Gift Aid.

Cambridge in America: If you are a US taxpayer you may prefer to donate via Cambridge in America. You can give online or by check using the Cambridge in America gift form. Please state when making your gift that you would like your donation to support the Millennium Mathematics Project and particularly Plus.
If you would like to discuss supporting the project in more detail, please contact Julia Hawkins at the Millennium Mathematics Project or Patrick Hawke-Smith at the University of Cambridge Development Office.
Thank you for your support!
posted by Plus @ 5:48 PM


0 Comments:
Monday, December 01, 2008
Heavenly threesome
Tonight sees a rare astronomical event: the Moon, Venus and Jupiter can all be seen close to each other in the same region of the night sky. In fact, Venus just passed behind the Moon! Over the next few nights, clouds permitting, you'll be able to see them slowly moving apart — get out your telescopes and look out for bright objects near the Moon!
posted by Plus @ 6:01 PM


Monday, December 01, 2008

The science of complexity
What do the human brain, the Internet and climate change have in common? They're all hugely complex, and while they're very different, the tools used to grapple with this complexity are likely to be similar. We visited the Cambridge complex systems consortium, dedicated to building an over-arching science of complexity, and talked to neuroscientist Ed Bullmore, mathematician Frank Kelly and climate scientist Hans Graf about their take on complexity. Listen to the podcast of the interviews.
This podcast accompanies the article Catching terrorists with maths.
Labels: podcast
posted by Plus @ 11:43 AM


0 Comments:
Monday, December 01, 2008
The recent news of the great Indian batsman Sachin Tendulkar surpassing West Indian Brian Lara's record number of test runs has given maths-loving cricket geeks another opportunity to pull out their calculators and Excel spreadsheets. Marc West is openly one of these nuts and did just that.
Labels: sports
posted by Plus @ 3:05 PM


0 Comments:
Tuesday, November 25, 2008
It may come as a surprise that your average proof in an academic journal is riddled with holes. Authors gloss over details, appeal to pictures, even intuition, and take hidden leaps of logical faith that, philosophically speaking, aren't entirely justified. These days mathematics contains proofs so long and complex that few people are able to check and understand them in full, yet once a result has made it through the peer review process and into a journal, its truth is taken as read.
All this is a far cry from the mathematical dream which started with Euclid over 2000 years ago: that every mathematical statement should be derived from the very axioms of mathematics in a sequence of verifiable logical steps. Proofs which do this are known as formal proofs, and they are the focus of a special issue of the Notices of the American Mathematics Society, which is now freely available online.
Labels: Latest news
posted by Plus @ 11:30 AM


0 Comments: