Submitted by

plusadmin

on May 1, 1998
May 1998
Karen works as a Qualifications Manager at RSA Examinations Board, Coventry. She has a BSc in Maths, loves salsa dancing and is a keen badminton player.
Karen Reid
She thinks Maths is "a very important subject. A lot of people switch off as soon as they hear the word thinking they can't do it. But it is a very logical subject. If persevered with, it can easily be enjoyed, especially at A-level. When I was doing A-levels, Maths was the most enjoyable, particularly when trying to figure something out and then it comes in a flash. It's a bit of a buzz when you actually get there, it really is good. Just persevere with it and stick at it."
"I had to struggle with O-levels. I was put down from the O-level group because I supposedly wasn't doing very well. I then got 95% in a test. At that point I involved my parents and was placed back in the O-level group. I became determined to continue with Maths. I wasn't really thinking of a career path as such, it was just that I thought I could achieve a Maths degree. Also I am not very good at writing essays!"
Life at RSA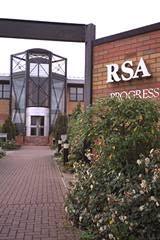 RSA Examinations Board
Her job is a busy one as a member of the GNVQ (General National Vocational Qualifications) Team. Karen joined RSA Examinations Board in 1996. "At the moment there are 15 GNVQs. I am in charge 5 of them: IT Full Award, IT Part One, which is a pre-16 GNVQ qualification, Engineering, Land and Environment and Management Studies". This also means she is responsible for the examination papers for these qualifications.
For each paper, of which there are several for each qualification, Karen says "I commission the test writer who sets the paper and the test editor. RSA and other awarding bodies work closely together to make sure we are all in agreement on the paper." Many further checks and tests are carried out involving examiners as well as the awarding bodies before each final paper is approved and produced. "In April we finalised the June 1998 papers so the timescales are short. You don't have much time between the final editing panel meetings to when the papers have to be sent for printing."
Another important part of her job is visiting centres around the country, training teachers and external verifiers in the subject areas for which she has responsibility. "We visit centres twice a year and I really enjoy the interaction with the teachers to see how they are delivering the qualification." As Karen also takes part in national and local educational exhibitions there are many opportunities for travel.
Karen says RSA "are very willing to send you out on training courses. I've been on various management training courses, presentation skills and recently went on an advanced presentation skills course. I also do their own compulsory management training course which runs for one year."
Interests
Old and new aspects of Coventry Cathedral.
"I have been playing badminton for the past few years. If I start something I have to learn to master it. I had a friend who was a badminton coach and he helped me. So now I enter non-league competitions, like the YONEX championships where people from all over the country take part. The professionals go to the finals but the non-professionals, like me, also play in the rounds before. At some stage I hope to be in the finals."
"Also I'm an avid salsa dancer. I started last Summer and thought I'd never be able to master it. Again I stuck at it and was going to every lesson that there was in Birmingham! Now every Friday night I am out "salsa-ing" until 3 o'clock in the morning."
"There is a club here, RSA 100 Club, which organises trips to the theatre and so on. I've been to see Lee Hurst at the Warwick Arts Centre, it was brilliant."
Career Life before RSA
Before joining RSA, Karen worked at another examinations board, The AEB/SEG (Associated Examining Board and the Southern Examining Group) where she was the Subject Officer for GCSE Maths. She has also been a maths teacher in a secondary school, Fairfax School in Birmingham, and a maths lecturer at South Birmingham Further Education College. "I enjoyed teaching. The reason I left wasn't because I didn't like the kids or the setting, it was really to experience other areas of education. I liked having that interaction with children and contributing to their achievement."
Life as a student
"From primary school I've always had this interest in Maths." Karen went on to study for her A-levels in Maths, Computer Science and Human Biology at Sutton Coldfield College of Further Education.
Karen was attracted to Loughborough University, where she did her BSc degree in Mathematics, because of its good sports facilities. "Sebastian Coe and Daley Thompson had been there ahead of me. I did athletic circuit training and basketball training, you name it and almost every day of the week I was doing something athletic! I wasn't very keen on the social life, the kind of pubs or clubs that were around weren't really appealing to me"
She liked the academic life and was there for four years, doing a CertEd in her third year. "The main parts of the degree course I preferred were Statistics and Pure Mathematics: anything to do with Algebra and Calculus. Numerical Analysis was interesting but difficult. But when it came to Mechanics I was not very good, I'd struggled with it at school too."
"I didn't really have many expectations while I was doing my degree. The main thing I thought was that doing a maths degree virtually guaranteed me getting a job. You think that there are not many people around with those."
More from Maths Careers
You can find out more about careers with mathematics on the Maths Careers website, which is run by the Institute of Mathematics and its Applications.