Submitted by

plusadmin

on January 1, 2000
January 2000
At Drury House on the banks of the Thames, Helen Thompson works for Sainsbury's as a Sales Forecasting Manager. Trained in maths and statistics, she uses a variety of tools and techniques to predict what customers will be buying in Sainsbury's vast network of shops.
Just before Christmas 1999, the Plus team visited her at Drury House to get the full story on working with statistics in one of Britain's best-known companies.

Early schooling
Helen went to Willowfield Lower School, Five Oaks Middle School and Manshead Upper School, all in Bedfordshire. She enjoyed maths at school, especially pure maths and statistics. Despite this, she says she had difficulty choosing between humanities and sciences at A-Level.
"I chose maths, physics and chemistry in the end", she said, "but it was a big decision to make at the time." She balanced out her studies with other activities such as involvement in a Young Enterprise scheme, sports such as hockey, and school House-related activities.

University days
When it came to choosing a degree course, Helen considered going back into the humanities. However, she was impressed by the flexibility offered at the University of Essex. The Mathematics Department there offered a degree with a general first year and a choice between economics, computing and maths at second year. She eventually took a maths degree with economics and computing components.
"I enjoyed University - both the study side and the lifestyle", said Helen. "It was completely different from school - standing on your own two feet." She also liked the fact that Essex was a campus-based University, where she lived in a residential hall with fifteen other students.
After finishing her degree, Helen decided to do a Masters degree in statistics and operational research at Essex. This would give her some hands-on experience working with real world statistics. Her M.Sc. project involved analysing statistics for blood loss during labour and haemoglobin measurements. The aim of the project was to investigate the effect that iron deficiency during pregnancy had on blood loss at delivery. It was hoped that this might help local doctors decide which new mothers could be sent home early without risk of iron deficiency after labour. (Iron is an essential component of haemoglobin, which carries oxygen in the blood.)
"My lecturer had already set up the project - what would be measured and so on. However, I found I had to go back and get other statistics from the records, and work out what to do with the actual data. It was the first time I'd encountered real statistics - up until then they had just been numbers in lectures", said Helen. "In the end we found no real link between blood loss in labour and iron deficiency, but the analysis turned out to be useful to the doctors in other ways."

The world of work
After her M.Sc., Helen contemplated going into teaching. She started a teacher training course at the University of Hertfordshire, but decided she'd rather have a job in industry. "I looked in Prospects Today magazine and saw an advertisement for Sainsbury's, so I sent them a letter and CV. I applied for some other jobs as well - I was still interested in medical statistics, and also things like credit scoring in banks." However, she was offered the Sainsbury's job very quickly, and started at Drury House soon after as a statistician.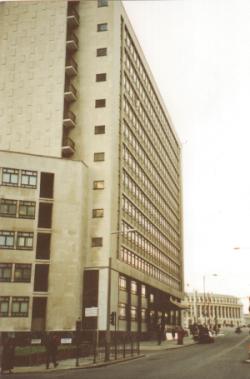 Drury House, where Helen is based.
Helen was soon promoted to Senior Statistician, and was promoted again to Forecasting Manager nine months before our interview. She said that a variety of sales forecasts need to be produced during the year. "Twice-yearly forecasts are produced for each of our four hundred stores, projecting weekly sales for around a year out. Each store's forecast is based on its own history, using its own data. There's *lots* of data! Our forecasts are used by other areas of the business, such as logistics, finance and retail, to plan ahead and so need to be reasonably accurate, but of course they can never be one hundred percent correct."
Forecasting sales for the Millennium holiday season was a major project for Helen. Millennium planning started 18 months ahead of time. "This Christmas is very special - it's completely new for us. We've nothing to go on! We've been working very closely with market research as a result." Helen said that market researchers had been surveying Sainsbury's customers since January regarding their Millennium plans. "More people have been going for private parties as time goes on." Helen's forecasting needed to take facts like this into account.
In addition to her main projects, Helen said she often receives direct requests for information from the Board of Directors, who check sales information daily. Other departments also ring her for information. "This morning, I had a query from Auditing about the sample sizes they should assume for some quality checks they were undertaking. In our work, each person has key projects, but things come up. You can come in most days and not know what you'll be working on."
Helen's current role means working closely with the Finance and Supply Chain sections, as well as reporting upward to the Board. She spends most of the day at her computer, but fields frequent phone requests. However, it's not all a desk job. "It's voluntary, but the majority of people here spend time working in stores. It's a good way of staying in touch. Our senior manager spent three days in a store last Christmas. Talking to staff in the stores gives a different perspective - it helps you know what the problems are, what's working and what isn't. It gives you a sense of what the numbers mean."
Helen said it was "very positive and uplifting" when Dino Adriano, Sainsbury's Group Chief Executive, went Back To The Floor for the BBC. She herself was planning to spend the Sunday after we spoke with her in a local store - "probably stacking shelves", she grinned.
We asked Helen if she actually uses the statistical methods she learnt at university in her everyday work. "Sales forecasting already has well-defined models, so not a lot of hands-on statistical work is needed", she told us. "However, when it comes to a problem, you do need to know where to go to find a solution. I still use things like T-tests and regression analysis [which you can learn at A-level] to help with sales trials - to advise on the number of stores to use, and check the validity of the results, for example."

Career moves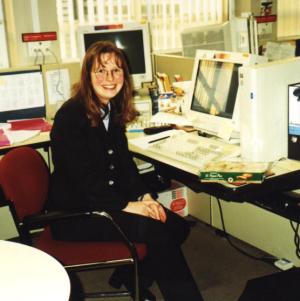 Helen at her desk.
To get into sales forecasting and related areas as a career, Helen suggested that a university course involving maths, economics and/or statistics would be appropriate. "Maths plus statistics is a useful degree." She had some further recommendations: "Get some practical experience using real statistics, such as a school or university project. A maths A-Level is essential, and computer experience is useful - including programming and spreadsheets". According to Helen, a Masters degree isn't essential, though it could be helpful. "It helps your CV stand out. It implies practical experience with a large project. A one year university work placement can also be highly beneficial."
As compared with other maths-related careers, Helen said that starting salaries in her area were reasonably good - "higher than some, though not at actuarial levels. And you won't earn as much as a city banker! A typical graduate starting salary might be £18,000." She said that there was a 50/50 gender balance in her department, and that Sainsbury's was a good equal-opportunity employer. They also offer opportunities for students - "we take a large number of student placements, usually University sandwich-year full-time placements. We've had two come back recently as full-time employees."
More from Maths Careers
You can find out more about careers with mathematics on the Maths Careers website, which is run by the Institute of Mathematics and its Applications. In particular you might want to look at this career profile on the Maths Careers site: