Submitted by

Marianne

on October 15, 2010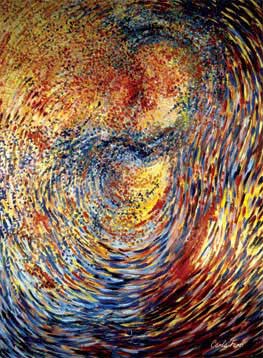 The birth of Hiroshima, Carla Farsi, from the Plus article Art+Math=X.
If you're an artist who's inspired by maths and science, here's a chance to exhibit your work. Through its annual open exhibition opportunities, Orleans House Gallery in London helps artists both locally and nationally to showcase their work in group exhibitions. Each year, over 500 individual artists exhibit work in a range of open exhibitions across three galleries in London: Orleans and Stables Galleries, Twickenham and the Riverside Gallery in Richmond.
In 2010, there are further opportunities for you to submit artwork for an exhibition at Riverside Gallery, Picturing Science. Scientists use an abstract language of signs to visualise and explain the invisible forces, relationships and processes which make up our world. Artists similarly create images to transmit and analyse meaning. The theme of this exhibition is the collision, intersection and contamination of these two systems of representation. Any media (prints, photos, paintings, objects, sculptures, film) and style are considered.
The submission deadline is the 23rd of October and the exhibition will run from December to February. For more information visit the Picturing Science website.