Submitted by

Rachel

on September 9, 2014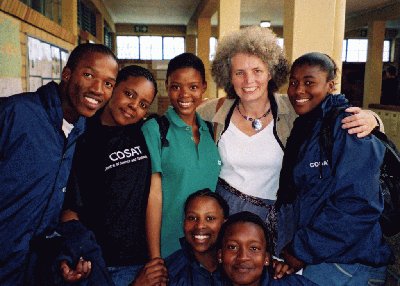 Cambridge solar physicist Helen Mason with South African students during her 2005 trip to AIMSSEC.
Later this month you get a chance to enjoy beautiful music twice as much as normal: not only will you hear the wonderful voices of the Adventist Vocal Ensemble, you will also also be helping to empower disadvantaged children in Africa through the power of maths education.
The African Institute for Mathematical Sciences Schools Enrichment Centre (AIMSSEC) founded in 2003, is a not-for-profit organisation empowering teachers to make an important difference to the educational opportunities of many thousands of South African children, and also to train other teachers. Experts from universities across the world, work as unpaid volunteers, with the African staff, to give professional development courses for mathematics teachers, subject advisers and field trainers working in disadvantaged rural and township communities, improving their subject knowledge and teaching skills and providing resources. AIMSSEC's work extends to other African countries and continues to grow and expand in the interest of sustainable improvement of education in Africa.
The concert, Rise Up for Africa, will raise funds for bursaries for some of the many hundreds of teachers in disadvantaged communities who are keen to attend the courses, yet have no funding to do so. AIMSSEC have raised enough funds for 7 teachers to attend the courses so far and their objective is that the Rise Up for Africa Benefit Concert will enable another 20 teachers to attend by raising £10,000.
Rise Up for Africa is at 7pm Saturday 27 September at All Saints Haggerston Church Hackney, London E8 4EP. You can find out more information and book your tickets here.