What is infinity?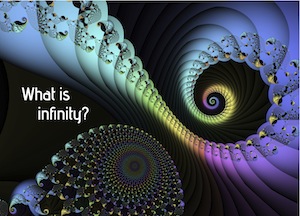 Image created by FAVIO.
Does infinity exist? Does it exist in the physical world or just in our heads? How many infinities are there? And are we allowed to do sums with them? Find out in these
Plus
articles.

David Spiegelhalter explains that waiting for an infinite number of monkeys to produce the complete works of Shakespeare is not just a probabilistic certainty, it also gives us an insight into how long we can expect to wait for a rare event to happen.
 

What's the nature of infinity? Are all infinities the same? And what happens if you've got infinitely many infinities? In this article Richard Elwes explores how these questions brought triumph to one man and ruin to another, ventures to the limits of mathematics and finds that, with infinity, you're spoilt for choice.

Richard Elwes continues his investigation into Cantor and Cohen's work. He investigates the continuum hypothesis, the question that caused Cantor so much grief.

Peter Macgregor explores the beautiful world of the infinite.