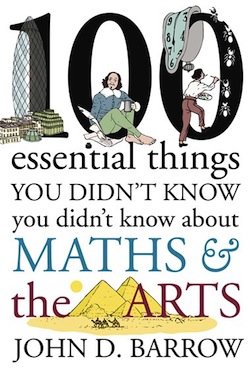 Barrow's new book.
Ever wondered why diamonds sparkle? Or why an egg is egg shaped?
John D. Barrow, mathematician, cosmologist and boss of Plus, explores the answers in a public talk at the Bradford Literature Festival on Sunday May 17. Taking us on a 100-step tour through art forms as various as sculpture, literature, architecture and dance, he reveals what maths can tell us about the mysteries of the worlds of art and design. (To get a taste, read Barrow's Plus article Where to stand to look at sculptures)
The talk is from 11am to 12pm at the City Library in Bradford and admission is £6. You can book tickets here.