Got it! a game for two players. The first player chooses a whole number from 1 to 4. After that players take turns to add a whole number from 1 to 4 to the running total. The player who hits the target of 23 wins the game.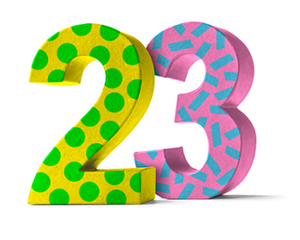 You can play the game against a friend, or against the computer using the interactivity on Wild Maths. Can you find a winning strategy? If yes, can you describe it? And what if you change the target number to something other than 23, or the numbers you are allowed to add to something other than 1 to 4?
Have fun!
Wild Maths encourages students to explore maths beyond the classroom and is designed to nurture mathematical creativity. The site is aimed at 7 to 16 year-olds, but open to all. It provides games, investigations, stories and spaces to explore, where discoveries are to be made. Some have starting points, some a big question and others offer you a free space to investigate.
Return to the Plus Advent Calendar