The Plus Paralympic calendar: Friday 31st August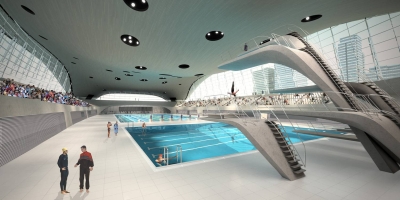 Precision is crucial. Computer model of the London 2012 Aquatics Centre. Image courtesy London 2012.
The Olympic Stadium and the Aquatics Centre are taking centre stage again as medals are being awarded in both athletics and swimming. Not any old pool or running track qualifies as an Olympic venue, partly because the accuracy of the lap length is very important. Make the track or pool too short and the distance covered will fall short of the required distance more and more as the race progresses. Any records set will be invalid when ultimately checked by laser ranging. But even when tracks and pools stay within the IAAF and FINA approved tolerances small errors can build up and make a real difference to race timings. Find out more in When errors snowball.