Submitted by

Marianne

on December 14, 2011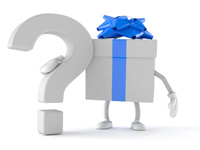 The n-th birthday of a very famous mathematician coincides with a year that corresponds to the (n+1)st prime number. Who is this mathematician?
Answer: Leonhard Euler (15 April 1707-18 September 1783). His 304th birthday coincides with this year 2011, which happens to be the 305th prime number.
---
This puzzle was contributed by Aziz Inan, Professor of Electrical Engineering at the University of Portland. His own name, when written in capital letters, is a geometric word puzzle. Swap the vowels and turn the consonants 90 degrees and the words have switched places. "My parents didn't plan this," he says. "It's just fun."