September 1997
Sarah Hudson is doing a BSc degree in Maths with European Studies at the University of Sussex, where we spoke to her this summer as she came to the end of her first year. It's a 4 year course and she will spend the third year in Germany. She did her A-Levels (Maths, German and Combined Science) at Cheam High School, London.
Sarah Hudson
Do you have any useful tips to pass on to GCSE or A-Level students who are thinking of going to university?
Definitely to visit some of your choices before deciding where you want to go. They might be completely different to your expectations from the prospectuses. If you want to do Maths, see if you can do Further Maths A-Level. The people I've talked to on my course who've done it say it has really helped them this year.
What influenced you in choosing your A-Levels?
When I was doing GCSEs I found I really enjoyed doing Maths so carried on. It was the same at A-Level, it was a really good challenge. People sometimes look at you strangely when you say that! I do like problem solving and getting to the bottom of things. I wanted a foreign language and chose German, and Combined Science because again I'd enjoyed it at GCSE and it was something I found that I did quite well.
Were you pleased with your choices?
Maths and German were very encouraging, I had good teachers. But Combined Science was a mistake, it was too difficult to do all three combined sciences in one A-Level. We couldn't finish the course so there were problems. I should have done Physics or something else.
How many were in your Maths A-Level class?
First of all there were about 7 but some of them dropped out, I was the only girl in the end.
So how did you set about choosing your University degree?
Before I was in the Upper Sixth I got the UCAS book and sent off for different prospectuses. I got about 25 in the end and read through them all. I wanted to do a Maths with German degree, but with German as a minor part. I did not want to do a joint honours degree.
Then I looked at which universities were most suitable and got in touch with about 8. In the end I went for 4 interviews, it really helped to look at the universities. Some of them were too far away or I didn't like the course. I came to Sussex and liked it straightaway. The course seemed to be exactly what I was looking for and they were really friendly. To be able to speak to the people about the course, rather than just reading about it, makes a big difference.
The campus at the University of Sussex.
How have you found settling into University life?
Very easy, I really enjoy it. Well, I took a year out first of all which helped. After my A-Levels I felt I needed a break from studying.
I worked in a tour operators where I'd worked on and off for about three years beforehand. Then I travelled for 3 months in America and got used to being away from home. So by the time I came here I was more self sufficient than some people who were away from home for the first time.
Now I'm in halls of residence where there are 24 of us in each court. We're not all doing the same subjects so you get to know a good range of people really well. Because we were all new everyone made the effort to be friends. In the first term there's a lot of things going on to try and get you to know each other.
Tell us a bit about the course content of your first year at Sussex.
Well, we're doing three-quarters Maths and a quarter German. In the first year European Studies is just German language lessons. But next year it goes on to having Maths lectures in German and we start learning more about European issues.
Maths was quite a shock in the first term because it was so different to what I'd done before. People who have done some of the things in Further Maths A-Level say it helps them to understand them straightaway. Obviously you do catch on eventually but it takes you longer because there are such different concepts.
What kind of teaching structure do you have?
We have lectures and workshops for each course. In the workshop there are about 12 people or less to each tutor. We're given a worksheet during the week which we can look at before the workshop and then they tell us which questions we have to give in. It might be the whole sheet or a few questions. We do some of them in class while we've got the tutors there to help us, then we have to give in the work a couple of days later and it's given back to you the next week.
You can also see tutors during their office hours and ask further questions. Say if you haven't managed to finish the sheet, or there's a question you are really stuck on. Usually a few of us get together and go to see them.
Is there a good social life here?
Yes, definitely. On campus we've got a good night-life, I think there's about 8 bars. We've got The Hothouse which is like a residential night club, it's open until 2 in the morning. The drink prices are cheaper than pub prices off campus.
Then there are so many clubs in Brighton, whatever kind of music you are into, there is always something going on. Because of us and Brighton University as well, there are lots of student discounts everywhere.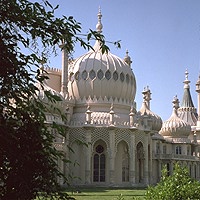 Brighton pavilion.
What about hobbies?
There are a lot of clubs on campus and opportunities to take up new sports. In the first term I played for the women's football team. I'd never played before and it was fun. Then you realise you can't do too much because you've got so much work to do. Also I work at one of the bars one night a week. It's not too much and helps with the money situation.
Are you glad you made the choice to come to University and what about your future plans?
I am really glad, because I did want to further my education and would have regretted it if I had not made this choice. Exam times are stressful and the work is quite hard, but I am enjoying student life overall.
I am trying to get a place in Germany to work for about 6 weeks during the holidays. I need to practise speaking the language.
I'm not sure what I'm going to do eventually. But the course is 4 years, so at the moment I'm just keeping my options open. I'm more interested in a career now than I was at A-Level, now it's more realistic, then it was a long way away. Some friends who are now finishing their degree can't believe how quickly the time at university has gone.