Student poster competition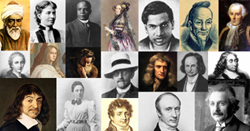 The Maths Careers website has launched a poster competition for students aged 11 to 19. You're invited to pick a historical mathematician and design an A4 poster about them. Do a little digging and find out the things they don't teach in your maths lessons – who were these mathematicians? What were their lives like? How did they come up with their great mathematical ideas? The best three posters from readers aged 11-14, 14-16 and 16-19 will win an iPod shuffle and a £25 iTunes voucher, and your posters will also appear on the Maths Careers website for everyone to see.
For information on how to enter visit the Maths Careers website.