We have a Mega Menger! Thanks to the tireless effort of students, the Centre for Mathematical Sciences in Cambridge (home of Plus) now has a piece of the largest distributed fractal model in the world. It's a model of a Menger sponge made out of over 48,000 business cards that are held together without any glue or sticky tape. Sets of six cards were folded up to form little cubes, a total of 8,000 of them, which together form an approximation of the sponge. The final result, which now adorns our common room, weighs over 90kg and is 1.5 metres tall.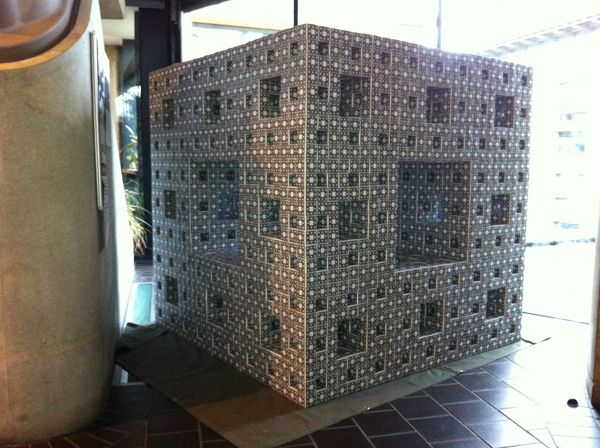 A model of the Menger sponge at the Centre for Mathematical Sciences in Cambridge.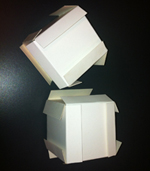 Little cubes made out of six cards.
The sponge model build was started off at an public event back in October, using thousands of little cubes that had been pre-built by students from twenty Cambridgeshire schools, coordinated by the Further Mathematics Support Programme. Enthusiastic members of the public and university students then finished it off, at one point working by the light of a single bulb when the building had shut down for the night. The effort is part of the MegaMenger project, which aims to build fractal models in multiple sites worldwide. If you would like to see our Mega Menger model, come to the Maths Faculty event at the 2015 Cambridge Science Festival, Saturday 21 March 2015, 12 noon — 4pm. You can find out more about fractals and the Menger sponge here.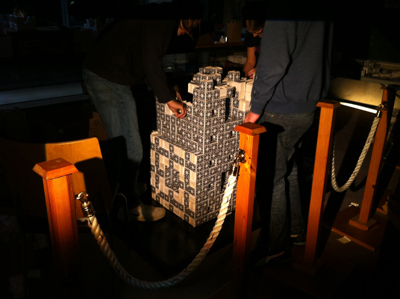 Students building the sponge by the light of a single bulb.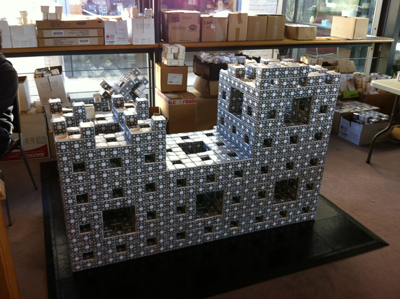 Work in progress.