As intelligent life forms in many universes join together to mark the 50th anniversary of Doctor Who, we thought we'd add our own little anniversary acknowledgement by revisiting the Plus posters' moment of fame!
We were delighted when the BBC approached us back in 2005 to ask if some of the Plus posters we had created for schools could be used as set dressing in an episode of Doctor Who with a storyline revolving around maths classrooms. And accordingly, in April 2006, the Plus posters made their TV debut in the Doctor Who episode School Reunion, alongside tenth Doctor David Tennant. The Doctor has infiltrated a school under cover as a science teacher, and discovers an alien plot to use the enhanced intelligence of the school students to solve the Skasis Paradigm, the key to the fundamental secrets of the universe. Solving the Paradigm requires imagination as well as intelligence - and when you're looking for maths students who are both imaginative and intelligent, of course they'll be reading Plus...
See those colourful posters in the background? That's them! Image © BBC
The posters which featured in the episode were launched in 2004, funded by EPSRC, in order to showcase the wide range of careers open to people with a background in maths. As Plus readers know know, the huge range of subjects featured in our articles and career interviews is proof of the amazing range of possibilities open to mathematicians : from avalanche researcher to audio software engineer, almost every field you can think of is represented on the Careers with Maths posters. The posters were intended to spread this message and to be a resource for teachers and career advisors dealing with mathematically-minded students.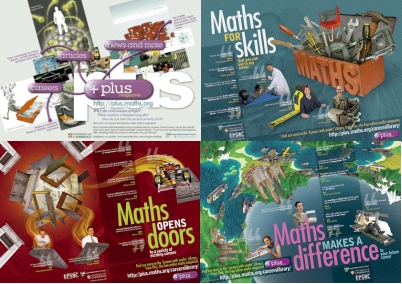 All the Plus posters
We are extremely proud of the appearance of the Plus posters on Doctor Who, and very grateful to Charles Trevelyan, Plus's graphic designer. The posters were hugely successful: at one point we were receiving over 1000 requests for them a day! Although the posters are long out of print and no longer being distributed you can still download and print out a copy for yourself. With The Doctor's help, maths fame has now spread throughout the TV-viewing world and beyond, reaching intelligent civilisations of all ages and dimensions. But then, if they're intelligent they probably already got the message. Enjoy the 50th anniversary episode tomorrow night, whichever time and relative dimension in space you find yourself!