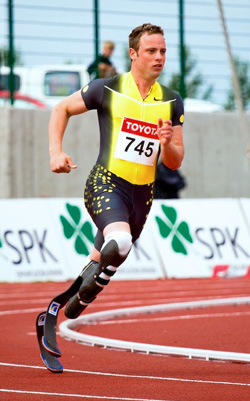 Oscar Pistorius. Image: Elvar Pálsson.
If the Olympics weren't enough for you, then you're in for another eleven days of top-performance sport: the Paralympic Games will open tonight. The first events for disabled athletes were held in conjunction with Olympic Games in Rome in the summer of 1960, although the term Paralympics was not used until the 1964 Tokyo Olympics. Since then the athletes, as well as their equipment, have progressed enormously. While the first wheelchair athletes used conventional wheelchairs, these days competitors race along in sophisticated lightweight racers. And advances in prosthetic limbs are even more impressive, as "blade runner" Oscar Pistorius exemplifies.
This got us thinking about the role of engineering and technology in sport. New technologies mean that the performance of athletes and their equipment, whether Paralympic or Olympic, can be measured, tested and simulated in ways that previous generations could only dream of. Tiny winning margins mean that any advantage that can be gained in this way is worth the effort. Last year we spoke to several researchers in sport technology about how their work makes a difference to sport: from designing sophisticated bobsleds for the Winter Olympics to the newly emerging "science of coaching". You can read about this in our article Making gold for 2012 or listen to the interviews in our podcast.
If you're near London, then you might want to pop along to the Royal Academy of Engineering, which is staging some interesting events for the Paralympics. From September 3rd to 14th it is hosting the Rio Tinto Sports Innovation Challenge Exhibition. The specially selected exhibits illustrate new sporting opportunities ranging from equipment through to radical new sporting events and competition models to facilitate active lifestyles for people with disabilities. On September 6th there's a lecture by Amit Goffer called Powered exoskeletons: Overcoming vertical mobility impairments. Goffer is the inventor of the first commercially available upright walking technology, enabling wheelchair users with lower-limb disabilities to stand, walk, and even climb stairs. And on September the 13th there's the Meet the Athletes drinks reception. It's an opportunity to meet and greet athletes that have taken part in disability sports, including an exclusive viewing of the specialist sports equipment they have used. To find out more about these events, click on the links or visit the Royal Academy of Engineering website.