Submitted by

Marianne

on September 5, 2012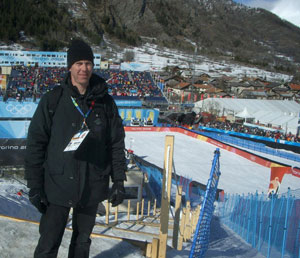 Jamie Clarke at the 2006 Winter Olympics in Torino.
One thing that's characterised the London 2012 Games is its great atmosphere — and that's largely down to the tens of thousands of volunteers who've donated their time, effort and enthusiasm to the Games. For most of them this will probably be a once-in-a-lifetime experience. But it's also possible to be part of big sporting events like this one and earn money at the same time. Jamie Clarke is one of the lucky people who has managed to do this and it's maths that has led him there. To find out how to live the sporting dream as a mathlete rather than an athlete, read our career interview with Jamie.