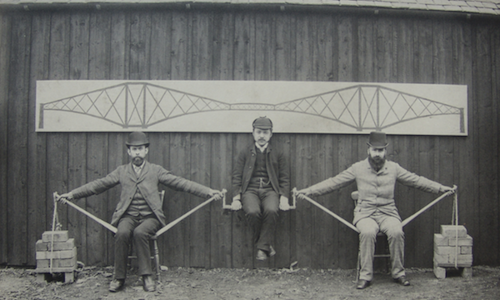 IMage courtesy of the Department of Civil and Environmental Engineering, Imperial College London.
This is one of friend of Plus Ahmer Wadee's favourites images from the book 50 visions of mathematics. It is of a demonstration at Imperial College in 1887 of the mathematical principles behind (or should that be underneath?) the Forth Bridge. The bridge was the largest spanning bridge in the world at the time and the technique behind it was an innovation, essentially balancing the forces involved using cantilevers. The men on the chairs (Sir John Fowler and Benjamin Baker) represent the piers of the bridge and the load on the bridge, in this case Kaichi Watanabe, one of the first Japanese engineers to study in the UK, is supported by the tension (in the men's arms and in the ropes to the anchors) and compression in the structure.
So, what holds up the Forth Bridge? Why, maths of course!
You can read more about the maths of engineering in Constructing our lives on Plus