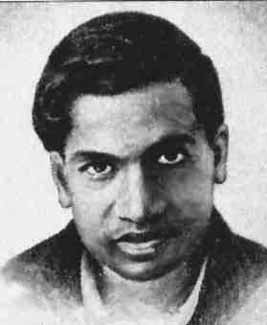 Srinivasa Ramanujan (1887 - 1920).
December 22nd would have been the 129th birthday of the legendary Indian mathematician Srinivasa Ramanujan, who recently achieved wider fame through the film The man who knew infinity. His story really is remarkable. Born in 1887 in a small village around 400km from Madras (now Chennai), Ramanujan developed a passion for maths very early on. By age 15 he routinely solved maths problems that went way beyond what his classmates were dealing with. He worked out his own method for solving quartic equations, for example, and even had a go at quintic ones (and failed of course, since the general quintic is unsolvable). But since he neglected all other subjects apart from maths, Ramanujan never got into university, and was forced to continue studying maths alone and in poverty. Only after a plea to an eminent mathematician, who described Ramanujan as "A short uncouth figure, stout, unshaven, not over clean," did Ramanujan eventually get a job as a clerk at the Madras Port Trust.
It was during his time at the Port Trust that Ramanujan decided to write a letter that was to change his life. It was addressed to the famous Cambridge number theorist G. H. Hardy who, accustomed to this early-twentieth-century form of spam, was irritated at first: a letter from an unknown Indian containing crazy-looking theorems and no proofs at all. But as he went about his day, Hardy couldn't quite forget about the script:
At the back of his mind [...] the Indian manuscript nagged away. Wild theorems. Theorems such as he had never seen before, nor imagined. A fraud of genius? A question was forming itself in his mind. As it was Hardy's mind, the question was forming itself with epigrammatic clarity: is a fraud of genius more probable than an unknown mathematician of genius? Clearly the answer was no. Back in his rooms in Trinity, he had another look at the script. He sent word to Littlewood that they must have a discussion after hall...
Apparently it did not take them long. Before midnight they knew, and knew for certain. The writer of these manuscripts was a man of genius.
From the foreword by C. P. Snow to Hardy's A Mathematician's Apology
Hardy invited Ramanujan to Cambridge, and on March 17, 1914 Ramanujan set sail for England to start one of the most fascinating collaborations in the history of maths. Right from the start the pair produced important results and Ramanujan made up for the gaps in his formal maths education by taking a degree in Cambridge. Perhaps the most famous story to emerge from this period has Hardy visiting Ramanujan as he lay ill in bed. Hardy complained that the number of the taxi he had arrived in, 1729, was a boring number, and that he worried this was a bad omen. "No," Ramanujan replied, apparently without hesitation. "It is a very interesting number; it is the smallest number expressible as the sum of two cubes in two different ways":
| | | | |
| --- | --- | --- | --- |
| | | | |
Unfortunately, Ramanujan's sickness wasn't a one-off. His health had always been feeble, and the cold weather and unaccustomed English food didn't help. Ramanujan decided to return to India in 1919 and died the following year, aged only 33. He is still celebrated as one of India's greatest mathematicians.
You can find out more about Ramanujan's mathematics in these Plus articles:
We have also recently reviewed the famous essay A mathematician's apology by Ramanujan's collaborator G.H. Hardy.