Our image of the week shows the courtyard of the British Museum in London with its beautiful glass and steel roof.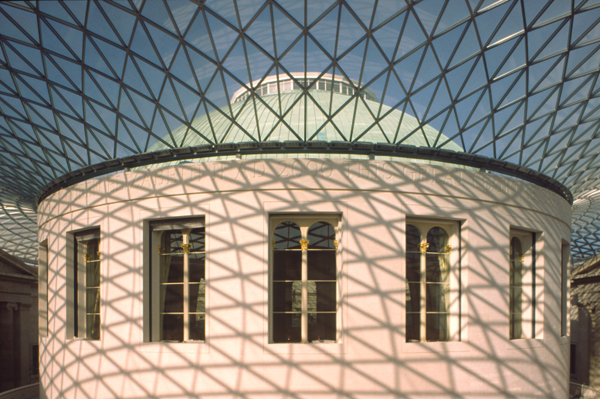 The courtyard of the British Museum with its famous mathematical roof and reading room in the middle. Image © The British Museum.
Officially the space is named the Queen Elizabeth II Great Court. Designed by Foster and Partners it transformed the Museum's inner courtyard into the largest covered public square in Europe. The courtyard was originally meant to be a garden, but in 1852–7 the Reading Room and a number of book stacks were built in it to house the library department of the Museum and the space was lost. Then, in 1997, the department moved to the new British Library building and there was an opportunity to re-open the space to the public. A competition was launched and won by Lord Foster, whose design is loosely based on the concept for the roof of the Reichstag in Berlin, Germany. The canopy of the roof was constructed out of 3,312 panes of glass, no two of which are the same.
The picture is one of the images that appear in the book 50 visions of mathematics, which celebrates the 50th anniversary of the Institute of Mathematics and its Applications.
You can see previous images of the week here.
Find out more about the maths behind Foster and Partners architecture here.