Submitted by

Marianne

on November 16, 2015
A hundred years ago, on 25 November 1915, Einstein presented his general theory of relativity to the world. But what exactly is this famous theory and what does it say about the world we live in? To celebrate the centenary of general relativity we bring you a collection of articles, videos and podcasts exploring the theory, Einstein's struggle to find it, and some interesting consequences.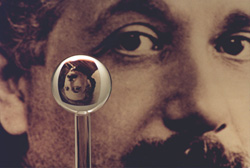 This image shows one of the most perfect spheres ever created by humans: a fused quartz gyroscope for the Gravity Probe B experiment, refracting the image of Albert Einstein in the background. Image courtesy NASA.