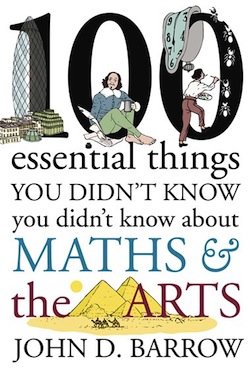 Why do diamonds sparkle? Why is the shower the best place to sing? Where is the best place to stand to look at a statue? Where is the 4th dimension in Dali's paintings? Do you know the answers to these questions? Or perhaps, you didn't know you didn't know these interesting facts!
Never fear, John D. Barrow is here with all the answers to these and 96 other questions you didn't know you didn't know about maths and art. To celebrate the launch of his new book (his 22nd!) called 100 Essential Things You Didn't Know You Didn't Know About Maths and the Arts he's giving a talk at 6pm on Thursday 13 November for Gresham College. As well as find out more about the interplay of maths and art, you can also enjoy a free drink with Barrow after the talk!
You don't need to register for the event, it's first come first served. Find out more here. You can also read an extract of the book on Plus.