Submitted by

Rachel

on August 5, 2011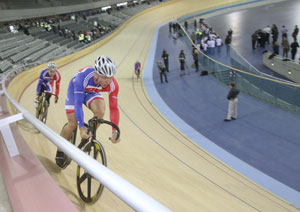 Sir Chris Hoy leads the GB Cycling Team during the official opening of the Velodrome (Photograph by David Poultney)
The Velodrome, with its striking curved shape, was the first venue to be completed in the London Olympic Park. Plus talks to structural engineers Andrew Weir and Pete Winslow from Expedition Engineering, who were part of the design team for the Velodrome, about how mathematics helped create its iconic shape.
You can also read the accompanying article.
You can listen to the podcast by clicking the download link, and you can subscribe to our podcast feed in your podcast aggregator of choice, or directly through Apple Podcasts or Spotify.