The British Science Festival comes to Aberdeen this year from 4th to 9th September. It's the largest annual public science event in Europe. This year's theme is Energising minds — and there's plenty of maths on offer to energise yours. The maths events in this year's main programme are: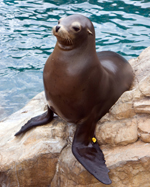 Stats explores the interaction between seals and cod.
And there's much more interesting stuff besides. To find out, have a look at the programme.