Submitted by

plusadmin

on March 3, 2010
Wednesday, March 03, 2010
Mathematical mind reading on pi day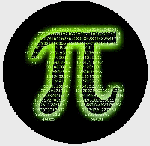 To celebrate pi day on the 14th of March 2010, a mathematician and a magician will attempt to pull off what promises to be the world's largest live online magic trick — and you can join in via Twitter!
The mathematician James Grime and the magician Brian Brushwood will exploit the magical power of mathematics to read your mind over the internet. Visit the pi day magic website for instructions on how to join up to this record-breaking attempt, and watch this space for an explanation of how it's done to be published after the event.
The trick will be part of the Cambridge Science Festival, which runs from the 8th to the 21st of March 2001.
posted by Plus @ 10:00 AM