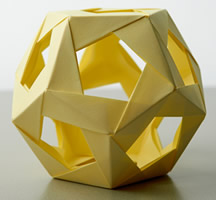 It's Friday. Time to decorate your office with your office stationery!! Turn your humble post-it notes into a beautiful skeletal dodecahedron. We can personally confirm that it is ridiculously satisfying making these and your desk will be the envy of your workplace. They even make great decorations for the Christmas tree!
Find out how to make one on the Wild maths website!
Wild Maths encourages students to explore maths beyond the classroom and is designed to nurture mathematical creativity. The site is aimed at 7 to 16 year-olds, but open to all. It provides games, investigations, stories and spaces to explore, where discoveries are to be made. Some have starting points, some a big question and others offer you a free space to investigate.
Return to the Plus Advent Calendar