Submitted by

Marianne

on December 16, 2014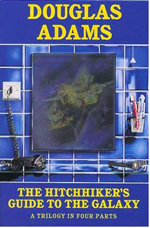 How about whiling away your time on a planet that's made entirely of beaches and where it's always Saturday afternoon? If that sounds good, then you better get your hands on the Hitchhiker's guide to the galaxy, the indispensable companion of intergalactic travellers. We revisited Douglas Adam's cult trilogy in five parts when we were writing our book (Numericon) and sill loved it as much as when we read it for the first time.
If you're not familiar with this classic, it starts with the Earth being demolished to make way for an intergalactic superhighway and the only two survivors hitching a ride on a passing spacecraft to embark on a journey that holds surprises way more bizarre, and menacing, than Saturday afternoon planets. If you are one of the many people who do know the Hitchhiker's guide then consider rereading it. It's fun!
Return to the Plus Advent Calendar