June 2009
We are proud to present the winners of the Plus New Writers Award 2009. The winners were chosen by our three judges: David Spiegelhalter, Winton Professor for the Public Understanding of Risk at the University of Cambridge, Geoffrey Carr, Science Editor of The Economist, and Julian Havil, mathematics author and retired mathematics teacher.
Secondary school category

Winner

Surein Aziz explores one of the most beautiful equations in mathematics




Runner-up

Sophie Butchart finds mysterious patterns in the solar system



University category

Winner

Horatio Boedihardjo explains the credit crunch




Runner-up

Sonia Buckley travels through higher dimensions



General public category

Winner

José-Manuel Rey unveils the curse of attractiveness




Runner-up

Lucinda Mathews visualises tricky surfaces



---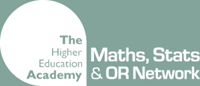 Plus would like to thank the Maths, Stats and Operational Research Network and the journal Nature for their kind support of this competition.
Back to issue 51 contents