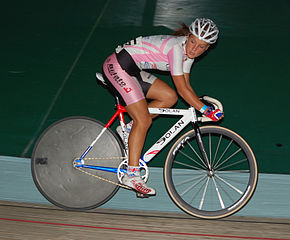 Lizzie Armitstead has won the silver medal in the women's road race. Image: johnthescone.
The first Olympic weekend is over! GB has excelled at cycling and swimming, snatching a silver and a bronze, and there have been other good performances too. Of course it's the taking part, not the winning, that counts, but let's face it: it's the medals, especially the gold ones, we all get most excited about. So while we were sitting glued to the telly watching the joys of weightlifting, archery and judo we started pondering some serious questions. Are all gold medals equal in value? How do poor countries perform compared to rich ones? How do the weather conditions of the day, for example the wind, influence an athlete's performance? What about the effect of altitude? And that of chance? Thankfully we remembered that two good friends of Plus have written an article looking at just these questions — so if you'd like to know some answers, read The maths of gold medals: Four Olympic thoughts.
Our sister site Maths in sport: Countdown to the Games also has some interesting content relating to some of the disciplines in which medals have already been awarded. There's an activity aimed at A-level students, exploring the effect of altitude on a weightlifter's performance, seeing that the weight of objects decreases as you move further away from the centre of the Earth. And, noting that some weightlifters are very big people indeed, we recommend the video of a lecture called David and goliath: Strength and power in sport, given by John D. Barrow, on the role of an athlete's size on his or her performance. But if weightlifting isn't your thing, you might prefer this key stage 3 activity, which comes with a nice little interactive applet, to see how an archer should adjust the sight to adapt to new situations. Who said that there was no maths in sport?