Submitted by

Marianne

on November 5, 2010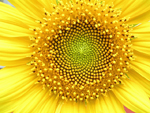 Image: L. Shyamal.
Mathematical language can heighten the imagery of a poem, and mathematical structure can deepen its effect. This lovely blog by JoAnne Growney lets you feast on an international menu of poems made rich by maths.
Here's an example of a Fib, that's a poem in which the number of syllables in each line follow the Fibonacci sequence, which appears on the blog. It was written by Athena Kildegaard.
seek
beauty—
all else is
false hope or blind faith.
What can be seen or heard or known
by pressing hard against this world—that is beautiful.