One of the most famous experiments in physics is the double slit experiment. It demonstrates, with unparalleled strangeness, that little particles of matter have something of a wave about them, and suggests that the very act of observing a particle has a dramatic effect on its behaviour.
To start off, imagine a wall with two slits in it. Imagine throwing tennis balls at the wall. Some will bounce off the wall, but some will travel through the slits. If there's another wall behind the first, the tennis balls that have travelled through the slits will hit it. If you mark all the spots where a ball has hit the second wall, what do you expect to see? That's right. Two strips of marks roughly the same shape as the slits.
In the image below, the first wall is shown from the top, and the second wall is shown from the front.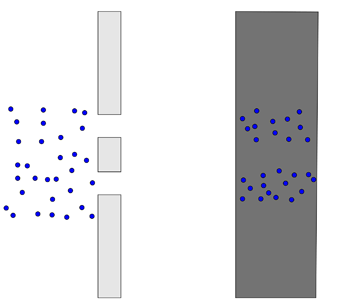 The pattern you get from particles.
Now imagine shining a light (of a single colour, that is, of a single wavelength) at a wall with two slits (where the distance between the slits is roughly the same as the light's wavelength). In the image below, we show the light wave and the wall from the top. The blue lines represent the peaks of the wave. As the wave passes though both slits, it essentially splits into two new waves, each spreading out from one of the slits. These two waves then interfere with each other. At some points, where a peak meets a trough, they will cancel each other out. And at others, where peak meets peak (that's where the blue curves cross in the diagram), they will reinforce each other. Places where the waves reinforce each other give the brightest light. When the light meets a second wall placed behind the first, you will see a stripy pattern, called an interference pattern. The bright stripes come from the waves reinforcing each other.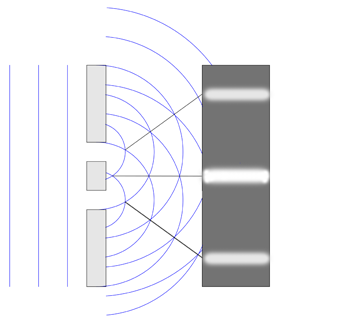 An interference pattern.
Here is a picture of a real interference pattern. There are more stripes because the picture captures more detail than our diagram. (For the sake of correctness, we should say that the image also shows a diffraction pattern, which you would get from a single slit, but we won't go into this here, and you don't need to think about it.)

Image: Jordgette, CC BY-SA 3.0.
Now let's go into the quantum realm. Imagine firing electrons at our wall with the two slits, but block one of those slits off for the moment. You'll find that some of the electrons will pass through the open slit and strike the second wall just as tennis balls would: the spots they arrive at form a strip roughly the same shape as the slit.
Now open the second slit. You'd expect two rectangular strips on the second wall, as with the tennis balls, but what you actually see is very different: the spots where electrons hit build up to replicate the interference pattern from a wave.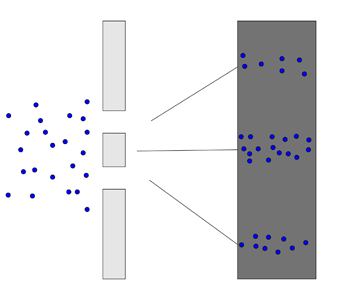 Here is an image of a real double slit experiment with electrons. The individual pictures show the pattern you get on the second wall as more and more electrons are fired. The result is a stripy interference pattern.
How can this be?
One possibility might be that the electrons somehow interfere with each other, so they don't arrive in the same places they would if they were alone. However, the interference pattern remains even when you fire the electrons one by one, so that they have no chance of interfering. Strangely, each individual electron contributes one dot to an overall pattern that looks like the interference pattern of a wave.
Could it be that each electrons somehow splits, passes through both slits at once, interferes with itself, and then recombines to meet the second screen as a single, localised particle?
To find out, you might place a detector by the slits, to see which slit an electron passes through. And that's the really weird bit. If you do that, then the pattern on the detector screen turns into the particle pattern of two strips, as seen in the first picture above! The interference pattern disappears. Somehow, the very act of looking makes sure that the electrons travel like well-behaved little tennis balls. It's as if they knew they were being spied on and decided not to be caught in the act of performing weird quantum shenanigans.
What does the experiment tell us? It suggests that what we call "particles", such as electrons, somehow combine characteristics of particles and characteristics of waves. That's the famous wave particle duality of quantum mechanics. It also suggests that the act of observing, of measuring, a quantum system has a profound effect on the system. The question of exactly how that happens constitutes the measurement problem of quantum mechanics.
---
Further reading
Comments
The scientist at Washington University found that quasimeasurements cause the zeno effect possibly explaining why the particles do not form a interference pattern if one detects which slit they pass through.
Seem to be leaving out the fact that the difference occurs when being actively observed.
Everything we see is our brain "interpreting" the photons of light reflected off a object. Just like our brains turns 30 FPS and up into a smooth video image. Any experiment that has the word "Observation" in it is flawed. A human used as test equipment for the observation part of a experiment can never be accurate.
It has nothing to do with a human observing anything. It has to do with how one observes things at the atomic and quantum scale. We make these observations by bouncing other particles off of the particles we're interested in examining. At the macro-scale this is not a problem as the particles were bounce off of things are much smaller and have little no affects at the macro.
But at the atomic and smaller scales, the particles we bounce off of things to observe them are similar in "size" (this is a stand in for mass, charge, etc.) to the particles we are trying to observe.
You can think of it like trying to figure out where a billiard ball is by bouncing a golf ball it. That will change the position, spin, etc. of the billiard ball.
I believe both, and agree with both of you. The two dont have to be mutually exclusive... It actually makes for a more narrow view that way.
I agree. What we don't know is much greater than what we do and much of what we think we know will change. I think it's best to leave room for many possibilities. Magic is just science undiscovered. If we keep placing boundaries on what's possible and teach others to ignore something for lack of explanations, scientific discovery suffers.
The duality of the particle has nothing to do with proving a god exists, just that science is indeterminate and is a duality of possible existences dependent on the observation of a consciousness. Seems like its human consciousness that determines the outcome not any god.
Hey, do you have a source on finding information about which slit with out active observation causing the interference pattern to not appear?
Try QED: The Strange Theory of Light and Matter by Richard P. Feynman. It's been a while since I've enjoyed this book, but my recollection is that it covered the topic well.
Thank you! I didn't think that explanation made sense, since any effect upon the particle being observed would surely be taken into account in these experiments…and because the detection unit (which "catches" the electrons passing through either slit) doesn't work by shooting particles at them, as far as I know…even if it did, that wouldn't be ignored as a variable or whatever…right? I assume such interaction isn't the method of detection anyway; how the materials used in the experiment could potentially influence the subject being measured is exactly what they control for, among other things- the environment itself, the actions taken as it is conducted and how conditions change…etc.
I just don't think what the commenter described is true since, well, I'd assume the researchers would know that sort of thing could skew the results & therefore lead to an incorrect conclusion. Scientists aren't just straight up missing the impact of what would be such an obvious flaw in these experiments. I mean, in general they either eliminate the possibility of their tools affecting what they're measuring OR they take that into account as a variable. Usually the second one is only possible if it's something that like…as long as it's known, it won't render their data useless…if that makes sense (so being aware that it is a factor is key) Anyway…
If a player has two attached low emission lasers either side of head, beamed through a double slit screen at, say, a home movie or scenario created by the player, bounces back as photons via player's retina to the player's neurons, will player perceive or believe he/she is part of the home movie?
A houseplant would work too. Humans cannot see at this level in any case. Machinery is used, and humans don't have to be in the room for the effects to continue. Observation just means measurement, and Wheeler's Delayed Choice and the Quantum Eraser experiments showed the measurement can occur after the photon, electron, or molecule has hit the wall...and it will still change.
This word is used for convenience, but no conscious observer is required. You can also say "detected". And by detected what is meant is that information exists that is, in principal, detectable even if not yet technically feasible. Look up "The World's Smallest Double-Slit Experiment" (2007) and you will find that a single low-energy electron can be an "observer" and collapse the quantum interference pattern of a high-energy electron exiting a single hydrogen molecule.
Everything we recieve through our sences gets interpreted in our brains as being solid, founded by rules/laws/logic & most importantly being OUTSIDE our bodies, ie, being real. Reality is though, that these words you now read, are IN your head as is ALL experiences. Point being, WHY are we being TRICKED to think we are experiencing life OUTSIDE our heads when in fact, we are experiencing life IN our heads, just a observation.
The only reason a human may not be good test equipment for observation would be because the person lacks awareness. Human observation can be as accurate as any mechanical scientific devise. It just depends on the awareness of the individual.
"Seem to be leaving out the fact that the difference occurs when being actively observed" EXACTLY!! This experiment shows that matter is not what we think it is. Scientists have known this for a century yet scientific materialism for some reason still prevails. Matter is a product of Mind. NOT the other way around. For more information read "Ontological Mathematics"
That is not what comes out this. "Observer" is a misleading term. It does not specifically refer to humans, nor even conscious creatures, although they can be.
What if the light is reacting to the material the slits were cut out from. Maybe electromagnetism causing the light particles to bend and change their direction just like how planets and comets change their orbits when passing near something with mass.
Electrons have almost no mass and therefore almost no gravity. Atoms of the slit have a huge mass compared to the electrons. As the electrons passes the slit the gravity of the atoms cause some of the closest electrons to start to spin, the same way water spins when shot through a slit. This spin then sends some of the electrons out of their normal straight line trajectory which causes the apparent wave effect.
If that were the case it would happen if there was only one slit. But it doesn't.
Electrons always have a spin of 1/2. This is a fundemental property of electrons and all fermions.
Even if electrons were pushed off their trajectory, how do electrons shot one at a time form an interference pattern?
If light passes through two slits and it reflects off a object that photon leaves some of itself behind and continues on as if you put paint on your hand and slap a wall then run, how many walls you slap depends on how much paint you got, when light reflects off the object or the slit where does it go is it passing through itself or is it colliding with itself in that direction and handing itself some extra light to continue like say you been running with paint on your hand and you have a train of people that follow you and you are the leader. What if you grab just a finger swap of paint for that extra inch foot mile etc. so when the rays reflects off the rectangle will that rectangle of photons continue colliding into each other and handing itself more photons or snatching some to create a another rectangle and so on till it fades away.
Have you found that discussion anywhere?
The Buddha mentioned the observer effect 2,600 years ago.
"Mind is the forerunner of all things....."
Didnt the above experiment just provide a testable theory, with internal consistent mathematical formulation? Budha may not have had the math, but perhaps the insight. Or, he got it right for the wrong reason.
Hypothesis: Human consciousness in the form of measurement alters the behavior of photons. Hmm, seems like that has been already published.
So are you then hypothesizing that the quantum realm is interactive with consciousness? What if two separate, distinct observers isolated from one another choose each option. Will they observe different results?
But if a particle knows it is being observed and that means the particle is observing its surroundings to see if there's an observer present making the particle itself is an observer, and If particles themselves are observers, then there would always be an observer present (particles) regardless of our recording device or not. And if there is always an observer it should always act as is being observed due to particles existing all around.
Thanks. Makes perfect sense.