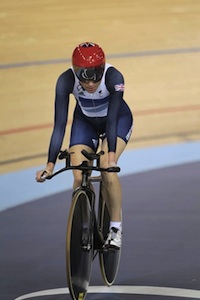 Sarah Storey (photo from Paralympics GB)
Today we say a fond farewell to the velodrome after the final track cycling events on the weekend. From Sarah Storey's first gold for Great Britain on Thursday to the cat-and-mouse gold medal game between compatriots Anthony Kappes and Neil Fachie of the Individual B Sprint yesterday, it has been a fabulous show. To celebrate we calculate just how Storey and her fellow cyclists are able to reach such astonishing speeds in Gearing up for gold.
Storey also features in three maths challenges from the BBC Two Learning Zone (developed with input from us, the Millennium Mathematics Project): the Key Stage 1 - Timing and Ranking Challege, the Key Stage 2 - Timing Challenge and the Key Stage 3 - Measuring Challenge.
And though the Paralympic and Olympic races are over for now, we can look forward to many more split second finishes in this outstanding venue in the coming years. Read more about the maths behind the Velodrome's iconic curves Leaning into 2012 and How the Velodrome found its form.