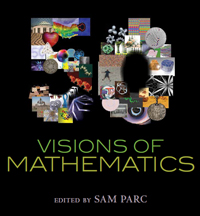 We're very excited! Over the last year or so we helped edit a book called 50: visions of mathematics and this Wednesday it will be officially launched — in the presence of HRH The Princess Royal!
The book celebrates the 50th anniversary of the Institute of Mathematics and its Applications (IMA) and it's the IMA's anniversary party the book will be launched at. It contains articles from our favourite popular maths authors, including Ian Stewart, Marcus du Sautoy, Simon Singh, Chris Budd and John D. Barrow. There will be a foreword by Dara Ó Briain and also fifty images showcasing the beauty and diversity of maths.
The main editor of the book is Sam Parc (follow her on Twitter) and we were part of a devoted editorial team that assisted her. If you like to read about maths with all its beauty and many applications, then why not have a look at the book? We're off to practice our curtsies...