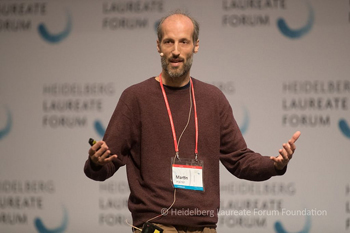 Martin Hairer talking at the Heidelberg Laureate Forum 2017. Foto: Bernhard Kreutzer for HLFF (c) Pressefoto Kreutzer
Plus is currently in Heidelberg, Germany, visiting the Heidelberg Laureate Forum 2017. The Forum gives young researchers in maths and computer science the chance to meet some of the best minds in their fields — and it gives us the opportunity to meet and interview both the laureates and the next generation. We'll be bringing you some in-depth coverage soon, but in the meantime we leave you with a brain teaser we learnt from Fields medallist Martin Hairer yesterday.
Imagine you have two envelopes. They both contain money, one twice as much as the other. You can pick one and keep the money inside. But just before you open your chosen envelope you are given the chance to change your mind. What should you do?
Write

for the amount that's in your chosen envelope. This means that the amount of money in the other envelope is either

or

. The probability that it's

is

and so is the probability that it's

. So the expected amount you'll get is
Since that's bigger than

, you should swap envelopes. But what if you are given another chance to swap envelopes after you have changed your mind once? By the same reasoning as above you should swap back again. And then, by the same argument again, you should swap a third time, and so on, forever. You end up in an infinite loop of swapping and never get any money at all. Is there something wrong with the reasoning? If yes, then what? Post your thoughts as a comment below!
Comments
If x and 2x are the amounts in the envelopes, then the expected value at the beginning of the game is (3/2)x.
You choose an envelope.
If you switch envelopes, the expected value of the money in the envelope you switch to is STILL (3/2)x.
The error is that when you say "switching can double your money to 2x or halve it to x/2", you are making a tacit assumption that you have information about your current choice - that you know what x itself is in some sense. This isn't the Monty Hall problem at all - in the MH problem you've gained information before you are offered the option of changing doors. Here, you've gained NO information in between, so there's no advantage to switching.
I think your last sentence contains a simple but key point Wessen. Here's my take on it:
We're told to call our choice of envelope "x", and presumably nothing else.
And to consider that the other envelope has either twice as much or half as much.
So far so good. But then comes the false step. If we now go back and use the very same original designation "x" in expressing these two possibilities as x and 2x we're caught up in a self-contradiction, since there are now at least two possibilities compared to one at the beginning. And if we add that beginning one to the present two we get three which we inevitably calculate as x, 2x, 1/2x. (And of course if we then continue and use the term x to designate our choice between these three, we're definitely sliding down a long road of confusion.)
Put it another way. It's as if in one envelope instead of cash we have a piece of paper with "x" written on it, and in the other just a piece with "2x" written on it. And if we then we go ahead and call our actual choice of envelope "x" as well, the logical clash (or collapse) appears to allow the possibilities to multiply.
This explanation needs no reference to probabilities or expected values.
So few commenters are thinking about the distribution - they are all getting hung up on the algebra and what 'x' might be etc. But if you think about the distribution you realise the whole problem is broken. It is not possible for x & 2x (or x/2 for that matter) to have equal probability because for a uniform probability distribution there has to be a maximum amount, after which the probability will be 0.
The Ponzi scheme is a fraudulent one which is initiated to grab new investors to pay off dues of the old investors. Portfolio Executives manage the flow of funds within the scheme. Furthermore keep a record of new investments and monitor payments. Basically its an age-old customary scheme that continued till date. Its name was coined after Charles Ponzi, the father and originator of the racket. He was known for starting the era of embezzlement in the 1920s.