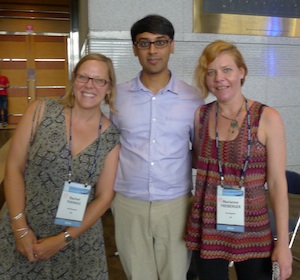 Manjul Bhargava (centre) with Plus editors Rachel and Marianne
Manjul Bhargava's idea of mathematics is interesting: "I think that the reasons for doing maths are similar to those for doing music or art," he says. "It's about contributing to a certain understanding of the world and ourselves." Bhargava has been described as having "extraordinary creativity" and was awarded the Fields Medal in 2014, one of the most important prizes in mathematics.
Bhargava believes that one of the keys to solving hard mathematical problems is to look at them in a new way: he famously solved an old number theory problem by visualising it as a Rubik's cube. You can meet him and his work on Wild Maths, and find out more detail in the Plus articles Revealing numbers and Answers on a donut, and listen to our interview with him from 2014.
Wild Maths encourages students to explore maths beyond the classroom and is designed to nurture mathematical creativity. The site is aimed at 7 to 16 year-olds, but open to all. It provides games, investigations, stories and spaces to explore, where discoveries are to be made. Some have starting points, some a big question and others offer you a free space to investigate.
Return to the Plus Advent Calendar