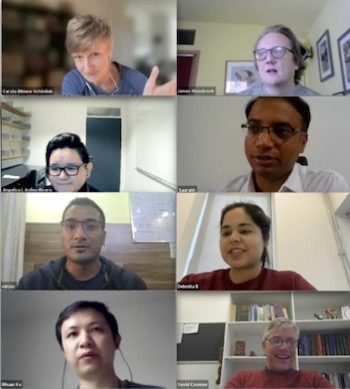 Some of the members of the INTEGRAL team who spoke to us over zoom. From top left: Carola-Bibiane Schönlieb, James Woodcock, Angelica Aviles-Rivero, Saurabh Pandey, Sanjay Bisht, Debmita Bandyopadhyay, Rihuan Ke, David Coomes.
It's amazing what you can see now thanks to remote imaging technology! Visiting far away landscapes via satellite images or watching live feeds from a famous street is fun, but remotely gathered images offer exciting opportunities to map and observe the world. The problem is that the vast amount of remotely gathered data now available is useless on it's own – we need to have the means to analyse and extract information from those images.
This is exactly what the members of the INTEGRAL project, researchers based at the University of Cambridge and researchers and industry partners in India, are working on. This is an innovative collaboration between people collecting remote sensing data – such as satellite images of forests and video from traffic cameras – and researchers developing the technology to analyse those remotely gathered images to answer meaningful questions.
In this podcast we talk to some of the members of the INTEGRAL team about the innovative machine learning approaches they are developing to understand remotely gathered images, and the significant impact these technologies can have on the world. Our thanks to Carola-Bibiane Schönlieb, James Woodcock, Angelica Aviles Rivero, Debmita Bandyopadhyay, Rihuan Ke and David Coomes, all from the University of Cambridge, and to Saurabh Pandey from KritiKal Solutions and Sanjay Bisht from IORA Ecological Solutions, both based in India.
You can read more about the INTEGRAL team's work in Seeing traffic through new eyes and about their new AI approaches in Maths in a minute: Semi-supervised machine learning. And you can find much more information about machine learning and image analysis on Plus.
You can listen to the podcast using the player above, and you can listen and subscribe to our podcast through Apple Podcasts, Spotify and through most other podcast providers via podbean.